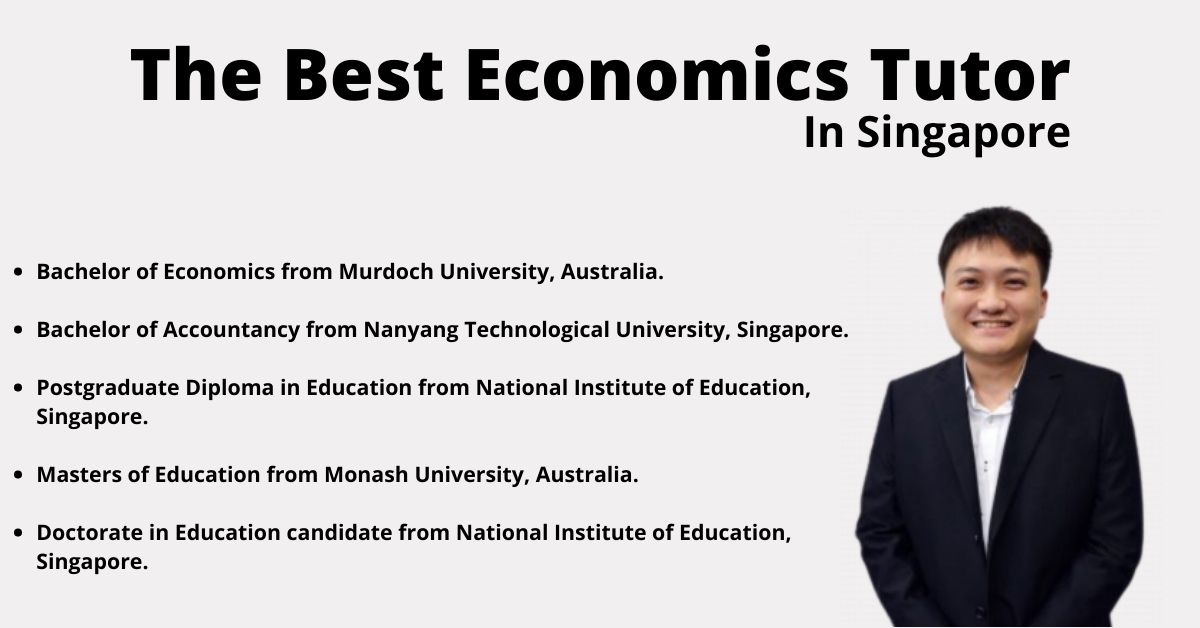 There are many economics tutors in Singapore. But what makes a good one stand out? Read on to find out more about the traits of a great tutor.
Traits Of A Good Economics Tutor
Economics is a challenging subject because it has many theories and terms that students may not understand. And sometimes, the student might not get the attention he or she needs in school. Thus the student would require an economics tutor to help him or her ace his A-levels Economics examination. 
A right tutor is someone who is a mentor for his students. This tutor doesn't just throw information at his students, but guides them patiently. 
Here are some traits of a good economics teacher:
· Communication
The difference between a school teacher and a tutor is that a school teacher may not be able to give individual attention to every student due to the large class size. In comparison, a tutor can have more time for one-to-one communication and be able to guide individual students.
· Patience
An economics tutor should be patient with his students. Every student has his or her own speed of grasping the concepts. To be able to understand the pace of each pupil and works with him or her accordingly is the trait of a good tutor.
· Experience
Economics is a tricky subject. A good economics tutor should know how to explain the different concepts and theories in an engaging way so that his students can easily grasp them. 
·        Application-based learning
The many economics concepts need to be well-explained by a good tutor, so that the students can be prepared not just for their examinations, but also for their lives after graduation.
· Dedication
A good Economics tutor in Singapore never gives up on his or her students. He or she doesn't discriminate between brighter or slower students, and strives to help all students to succeed. 
Anthony Fok – The Super Tutor and One of the Best Economics Tutors in Singapore
Anthony Fok is an Economics tutor in Singapore who is highly-sought after in Singapore, having been featured on many media outlets such as The Sunday Times and The Straits Times. Often labelled as the economics guru and "super tutor" in Singapore, he is also the author of several A levels Economics resource books. These books are the relevant, well-organised and accessible, and covers topics like evaluation points and mind maps. His former students are thankful for the results he has helped them achieve.
In a media interview, he explained why private tutors are important for A-level students. According to him, in a regular school, the teachers might not be able to give every student individual attention. On top of their studies, students are also expected to take part in many extra-curricular activities to boost their chances of getting into university. In the middle of all these requirements, their studies might be adversely affected. So, they need extra guidance and coaching. They need a mentor to assess their progress and make sure that they ace their A levels economics exam.
The Methodology
A-levels can be a stressful time for students. Under the guidance of good tutors like Mr Anthony Fok, students are provided with relevant resources so that they can study hard and study smart. Mr Fok guides the JC students with the latest past-year papers and exam-style questions. Students analyse the past-year examination papers to learn application skills and answering techniques. This gives them the confidence to perform well is their economics examination. 
Tuition Proved to Be the Game-Changer
Anthony Fok's economics tuition classes offers students the best guidance for economics. In these economics tuition lessons, students can polish their critical thinking skills. They also learn from real-life experiences so that they can apply their knowledge to daily tasks outside the classroom.
Having good Economics book resources, and a good tutor helps students get closer to scoring an A!
The Reason Behind BestEconsTuition 
Anthony Fok has appeared in multiple TV shows as an inspirational speaker. Yet in an interview, Mr Fok explained that he didn't label himself as a super tutor. It is the love of his students that has made him who he is today. He believes that the best tutor is one who genuinely cares for his students, and is passionate about his students' success. He believes that a tutor should be a role model and inspiration for his or her students.