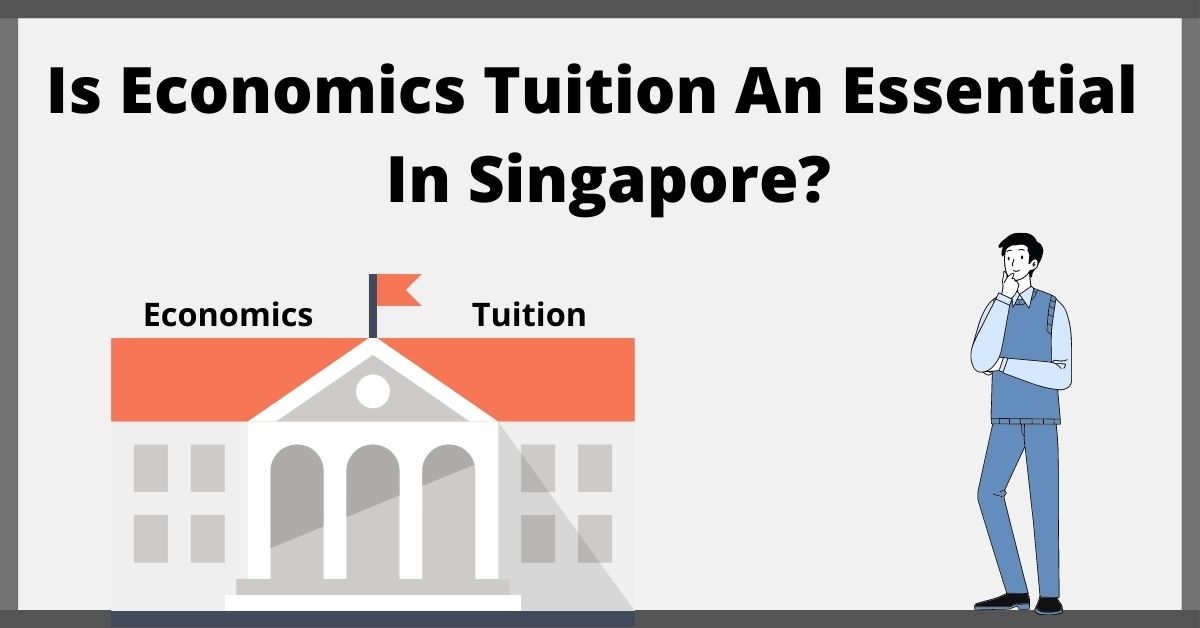 During their Junior College education, students have to grasp a variety of new concepts in just 2 years, before sitting for their A Level examinations. In these two years, students also have to juggle between their academics and their co-curricular activities. In this article, we will discuss the reasons why economics tuition may be necessary for some students in Singapore.
Many students, especially those who are struggling in their studies, would believe that economics tuition is a necessity in Singapore. The proof of the statement lies in the fact there are quite a number of economics tuition centers in Singapore, and many of them are popular with students and parents alike.
Reasons for the Popularity of Tuition Centres
What could be the reason behind this popularity? After carefully observing the education system, schools, tuition centres and the students themselves, we have come to a list of reasons that highlight the reason behind Singapore's strong tuition culture. Read on to find out more.
So Much To Learn, So Little Time
As we have stated before, Singapore's education system allows for the completion of one's A-levels within a two year period. However, these two years are often too short a time for students to master all their subjects very well. Moreover, teachers at school don't have enough time to offer individual attention to each student. Students also often complain that the teachers rush their lectures.
Economics tuition centers ensure that each student gets enough attention from the tutor. They focus on explaining the concepts in detail rather than rushing through the chapters.
Unrelatable Concepts
Students may find it hard to relate what they have learnt in their economics lectures to the real world. Although there may be many real-life examples of economic theories. students still require time to fully comprehend certain economics concepts.
Economics tutors usually have more time to explain economics concepts to students and teach them how these concepts are applicable to real life case studies. As a result, students would also feel more comfortable with the situation-based questions that come in the exam.
Individual Attention
Economics is a challenging subject for first-time students. Some grasp concepts earlier than others. A normal school environment may make it difficult for school teachers to give their undivided individual attention to a particular student. Students who are already shy may get left behind.
However, in economics tuition centers, tutors can ensure that each student gets full and personalised attention. Some good tutors also agree upon having one-to-one sessions with the students. This gives students more opportunities to work on the strengths and weaknesses. In addition to that, some economics tuition offer crash courses too, where they evaluate certain sample papers solved by the students.
Asians are Competitive- Not A Myth!
Singaporeans are hardworking. It is not difficult to pass the economics examination, but it is difficult to score a distinction. Many students seek tuition centres to help bring out their best potential.
JC Economics Tuition By Anthony Fok
JC Economics Tuition is one of the best economics tuition centres in Singapore. Anthony Fok is an experienced educator and the tutor behind many A-level economics students' excellent results. He started his career as a teacher but later built his economics tuition centre upon positive responses from his students. Many newspapers and television shows have given him the title of "Super Tutor". Mr Fok has also published his resource books that are a great guides for economics A-levels.
So, register yourself with one of the best economics tutors in Singapore and achieve the best results for yourself. To know more about JC Economics tuition centre, the tutor's methodology, and information on sessions, visit their website today! Click the link @BESTECONSTUITION.COM