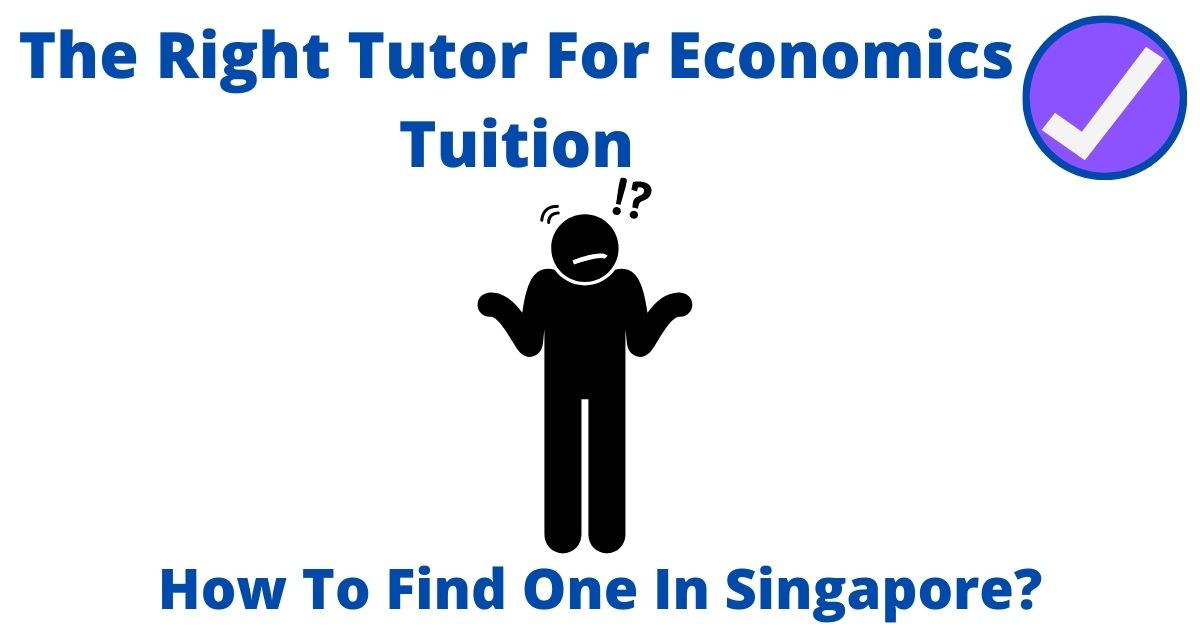 Economics can be a challenging subject, especially for those students who don't have previous knowledge in the subject. With the tough competition in Singapore's education system, some may feel stressful about performing well in examinations. Students can find help through local tutors and tuition centres. There are many Economics tutors that students can approach for help. But how to find the right one?
In this article, we will learn about the qualities of one of the best tutors for economics tuition.
Why Do You Need a Good Economics Tutor?
Taking the A-levels is one of the milestones in a student's life. On top of that, students have to juggle academics with their other school commitments. As a result, some students might not manage their time well and end up missing their classes. So, a dedicated economics tutor would help to fill up the gaps.
A good economics tutor can help students:
· To improve academic performance
In Economics, the more you practice, the better the grades you can achieve. Make use of the tests, quizzes and past-year papers your tutors give you to practice.
· To improve critical thinking
The tutors will encourage you to think critically and to improve your understanding of certain concepts. It is essential for essay type questions in economics examinations.
· To overcome your weaknesses
Sometimes a student may need more help to understand certain topics. With the right guidance, you will be able to improve.
· To offer constant support
Your tutor can become your constant support, helping you answer any question whenever you have doubts.
· To get direct feedback
Lastly, but most importantly, every student is different. The best thing about an economics tutor is that students can get more individual attention and personalised feedback. This would help build students' confidence and encourage them to work harder to improve.
Qualities Of The Right Tutor
Parents spend a lot of money to get their children into the good schools. They also spend a lot to help their children find good tutors and tuition centres. Students face a lot of pressure in their A-levels. IN order to excel, a lot of it depends on the right tutor for the student. When it comes to economics, we have listed a few qualities a tutor should have :
· Availability
The difference between a regular school teacher and an economics tutor is that a school teacher may not be able to give students individual attention due to the larger class size. In comparison, a tutor can be more available for his or her students. As a result, students can gain more confidence in their examinations.
· Understands Individuality of Each Student
An economics tutor should be patient with his or her students. Every student has his or her own speed of grasping the concepts. So, the tutor has to understand the pace of each student and work with him or her accordingly. The right tutor will give different feedback to every student.
· Good Qualifications and Testimonials
A student should check the qualifications and testimonials of the tutor before choosing him or her. This can be done via websites or by visiting the tuition centre. Having good qualifications in both economics and education is a plus.
· Use of Activity-based Teaching
Activity-based learning is the key! Economics has many concepts that a tutor can explain through applications.
· Dedication
Good economics tutors never give up on their students. They treat all their students the same and help them to succeed.
Where To Find The Best Economics Tutor In Singapore
Anthony Fok is one of the best tutors of economics in Singapore. He runs his economics tuition centre in Singapore. His methodology is to help the students master the skills of economics. According to Mr Fok, there are millions of economics tutors in Singapore but what makes him unique is his devotion to his students and his hard work. His ability to never stop believing in his students is an inspiration to many.
Follow this link to know more about the best economics tutor in Singapore.
Conclusion
In Singapore, many students may find it challenging to grasp the theories of economics. They are in a constant search to find the right economics tutor. With the list we provided, we hope we have made your search for a good tutor easier!